94th over: Australia 273-7 (Patterson 11, Cummins 0) Chameera looked a spent force half an hour ago but now he's back on the field and beating the bat of Cummins with a lovely little away swinger. There is no pace about but with the pink ball at this time of night it is all about accuracy.
93rd over: Australia 273-7 (Patterson 10, Cummins 0) Perera was through that set in about 90 seconds, doing Lakmal no favours. Patterson made it to double figures along the way, from the inside portion of his blade to square leg. Cummins also inside edged near the bat pad but not near the hand of the catcher. With that over bowled, Lakmal leaves the field, which means his fine spell is complete.
92nd over: Australia 272-7 (Patterson 9, Cummins 0) Not to be! The hat-trick ball was his worst of the set, waaaay outside the off stump. Chandimal retains the five slips (!) for Cummins throughout the over, beating him with a pair of beauts. The second of those prompted an enthusiastic appeal from the posse behind the wicket but Umpire Illingworth wanted none of it. What a wonderful spell. How many more can he get through?
Adam Collins (@collinsadam)

Convince that I'm never going to see a Test hat-trick. #AUSvSL pic.twitter.com/esDCea5WsG
91st over: Australia 272-7 (Patterson 9, Cummins 0) Perera is getting plenty of movement and ample bounce from round the wicket but Patterson is up to the task. Suddenly, his job is a very important one. Stand by for the hat trick ball!
90th over: Australia 272-7 (Patterson 9, Cummins 0) We will have to wait for the hat-trick ball, Lakmal's pair of wickets from the final two deliveries. What a superb over from the Sri Lankan attack leader, at the very moment that they looked set to be batted out of this Test with their two other quicks off the field injured. That's leadership.
Lakmal is on a hat-trick! He has squared up the Australian captain first ball, finding the edge, just making the journey to Mendis at second slip. That's a gorgeous piece of bowling and an equally fantastic catch coming forward.
Well, it may have been a nice time to bat but Head has not made the most of it. It came back a long way from Lakmal, shaping back into the left-hander from over the wicket, clipping the top of the stumps. Sorry for saying in the previous post that it was Patterson facing, the man on debut was watching that safely from the other end.
IS HEAD OUT LBW TO LAKMAL? Umpire Illingworth says so! But he's sent it upstairs. Stand by.
89th over: Australia 269-5 (Head 82, Patterson 9) Patterson gets off strike first ball in the same way he got off the mark, to mid-on with a firm push off Perera. Head is content playing conservatively until the final delivery, cutting a couple into the gap. Test cricket is never easy, but this truly is the time to cash in.
88th over: Australia 266-5 (Head 80, Patterson 8) Lakmal again, who might have to bowl for the entirety of this long final session. There isn't a lot going on, Head defending the accurate deliveries and leaving the wide alone, including one down leg. Super shot to finish, leaning back to crunch a slightly shorter ball through point for four from the balls of his feet, ala Joe Root at his best.

87th over: Australia 262-5 (Head 76, Patterson 8) It is back to Perera for the injured Chameera, the offie who sent down a lovely set to begin this session. He's now coming from the Stanley Street End, the sun slowly setting over his left shoulder. Coming round the wicket to Head, he takes one to square leg. Patterson's turn, the new man leaning into a drive but only as far as the man at cover. "Patterson has just got to be careful," notes Michael Vaughan on TV after miscuing a defensive push. "He's just leaning over too far."
86th over: Australia 261-5 (Head 75, Patterson 8) Lakmal gives Head enough room to free his arms and punch down the ground off the back foot for three to begin, taking him three quarters of the way to a ton. This is the third time that the South Australian has made it into the 70s in Tests but he simply has to convert this time around. With bowlers down everywhere, he won't get a better chance.
85th over: Australia 258-5 (Head 72, Patterson 8) Yup, Chameera is in more trouble than the early settlers, chatting to Chandimal between balls, limping back to his mark. But, of course, beware of the injured bowler. Sure enough, he beats the blade of Patterson before the over is done then leaving the field.
We have an answer to the Jim Maxwell poser! From Carl Jepson: "The aforementioned gentlemen commenced their test careers at No. 7?"
Ding, ding, ding! Bradman's first has been of interest to me this summer because it was played at the Brisbane Exhibition Ground, where two Tests were held – including his debut. Nearly a century on, Manuka next week becomes just the 11th in Australia. By comparison, in India during the 2017 tour, Australia played at three new venues – Pune, Ranchi and Dharhamsala – making 27 in their history.
84th over: Australia 256-5 (Head 71, Patterson 7) Lakmal does replace Perera, which is a bit disappointing for those of us who enjoy watching finger spinners do their thing with the new ball. For that, you can thank Dipak Patel. As it was in the previous over, the only scoring shot is a three to Patterson, this time leaning on a full ball, placing it through cover. With Chameera all-but cooked and Kumara off the field, there's a lot riding on Lakmal's spell right now.
"Evening Adam." G'day, Phil Withall. "With regard to the banner. The whole thing has been badly dealt with from the beginning. Cricket Australia seemed to think it would just blow over and no harm would come of it. That is the most disappointing aspect (the content of the banner is obviously abhorrent beyond belief). The soft handling of things like this only empowers the idiots to repeat such things and escalate them. The less punishment the more ennobled they become. Prejudice has no place in sport or society as a whole and those that display it need to understand this."
Well said. For CA's part, I suspect there might have been some confusion about what the statement means. Of course, it is coded. If a Pepe the Frog banner were unfurled it would be just the same. Anyway, as I said, you're all across this.

83rd over: Australia 253-5 (Head 71, Patterson 4) Patterson gets three more now, tucking Chameera off his pads easily enough. The quick gets through the over with his pace dropping. As they note on TV, he looks spent at just the wrong time.
David Squires (@squires_david)

Here's this week's cartoon for Guardian Australia #SaveHakeem https://t.co/KETYtiYffX
82nd over: Australia 250-5 (Head 71, Patterson 1) The new man is playing with soft hands until Perera gets one to drift and turn beautifully, beyond his outside edge. He's getting considerable bounce with the second new ball, too. Another excellent delivery follows, going on with the arm. The expectation was that the offie was on now to help change ends of the quicks but they should keep him going on the evidence of this set. To finish, Patterson dances down the track to take his first run in Test cricket, down to mid-on. It took 14 balls and included a 40-minute wait. But he's away now and what a relief that must be.
"They (CA) won't do anything about this unless the cops do?" asks Laura Caughey, our favourite Irish umpire. "And they banned three players for a year for ball tampering after the ICC already issued their sanctions?" Nice pick up.
The players are back on the field. Perera has the ball at the Vulture Street end, bowling at Patterson who is yet to score with Australia resuming at 249/5. PLAY!
An update on the disgraceful nonsense from last night. I'm pleased that WA Police are investigating as that is the only real way that CA will ban the idiots for three years, as they have the capacity to do. I know that I don't need to explain the origins of that particular slogan to OBO readers. To that end, it's a disgrace that they could just stroll into, say, the WBBL final tomorrow. They're not welcome.
This will mean nothing to those in the non-footy states, but Luke Hodge is on Channel Seven at the break with Damien Fleming. I can't wait to eat that right up.
I'm not missing this opportunity.
What do these men have in common? As Jim Maxwell entered the dinner room here behind our position here in the press, this is what he put to me. In turn, I said I would begin by asking the OBO if they can work it out in less time than I did. McCartney, Noble, Kippax, Bradman, GS Chappell, and now, Kurtis Patterson. Go!
Hello, by the way. How about a debut ton for the new southpaw with all the runs coming in the final session against the pink ball? Dare to dream. For now, keep me company with a formal note or a searing hot take. I'm open for business.
Australia's session, Australia's match, but still that defining innings remains elusive for Australia's batsmen. Marnus Labuschagne got close with his 81 – the top score of the summer for Australia in Tests – but his composed knock ended when he handed his wicket away out of the blue shortly before Dinner.
Travis Head may yet pile on the runs to become Australia's first centurion of 2019 but his innings has not been without good fortune. He should have been caught two hours ago but Niroshan Dickwella and the slip cordon made a meal of a routine edge behind the wicket.
The final session of the day promises plenty. Under lights Kurtis Patterson will show what he's made of, and with his side already in command of this Test the shackles should be off for the young New South Welshman.
Adam Collins will take you through the next phase of play so I shall take my leave, find a spoon, and resume my career as a Pete Townshend lookalike. See you tomorrow.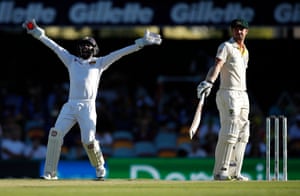 Travis Head rode his luck to remain unbeaten at Dinner on day two of the first Test against Sri Lanka. Photograph: Ryan Pierse/Getty Images
81st over: Australia 249-5 (Head 71, Patterson 0) Patterson's dot ball debut extends to eight but he does rotate the strike courtesy of a leg-bye. It's an innocuous opening over with the new ball by Lakmal, his pace in the mid to high 120s kph which is far from threatening at this level without prodigious sideways movement. Head is happy to stand his ground and stride off for the Dinner interval.
The second new ball has been taken immediately. Lakmal will have one over with it before the Dinner break.
80th over: Australia 248-5 (Head 71, Patterson 0) Head dabs out a maiden with the end of the session fast approaching. Not only that but the second new ball is also now a consideration.
Dan Liebke (@LiebCricket)

Labuschagne achieves a century in Base 9 and decides that's close enough. Classic Marnus move. #MarnusMove
79th over: Australia 248-5 (Head 71, Patterson 0) The left-handed Patterson begins his Test career with five dot balls.
#7Cricket (@7Cricket)

Out of absolutely nowhere.

Labuschagne chips it straight to the short mid-wicket #AUSvSL pic.twitter.com/hduGe03ADs
Oh no! Such a shame for Marnus Labuschagne. He's been chanceless all session but in the shadow of the Dinner break he chips Dananjaya harmlessly to short midwicket and he has to go. There was a century and more for the taking but a summer's summit of 81 will have to do.
78th over: Australia 248-4 (Labuschagne 81 Head 71) Dickwella is adamant he has Head caught behind off the bowling of Perera but Richard Illingworth is unmoved and Sri Lanka have no reviews remaining. Short and wide from the bowler and not the smartest shot from the batsman. We await the DRS replays.
77th over: Australia 247-4 (Labuschagne 80 Head 71) Dananjaya's back into the attack after that light relief from Karunaratne but it's an inauspicious start, a full toss followed by a long hop. Among this Labuschagne sprints an all-run four and dabs a single into the offside to reach 80, Australia's highest individual score of this Test summer.
76th over: Australia 240-4 (Labuschagne 74 Head 70) *Milestone Klaxon*: this is now Australia's highest fifth-wicket partnership versus Sri Lanka.
In further good news for Australian sport, Sam Stosur has just won a grand slam.
#AusOpen (@AustralianOpen)

Best mates winning a Grand Slam title together.

What a moment 🙏@bambamsam30 @zhangshuai121 #AusOpen pic.twitter.com/Hib62wi062
75th over: Australia 238-4 (Labuschagne 74 Head 68) Karunaratne gets a third over and he justifies it with a beautiful opening delivery that kissed the deck and gambolled beyond Labuschagne's outside edge. There's an appeal for LBW soon afterwards but umpire Erasmus is wise to a faint inside edge.
The Cricket Prof. (@CricProf)

Dilruwan Perera in his Test career averages 22.0 against left-handers compared to 46.6 against the right-handers. In this match so far, against left-handers 1-17 (at 1.96 rpo) & 0-42 (at 4.94 rpo) against the right-handers. #AUSvSL
74th over: Australia 234-4 (Labuschagne 71 Head 67) Sri Lanka's fielding so far has been dreadful, missing catches, chaperoning boundaries and gifting singles. The latest aberration allows Head to jog through for a run but it almost works in the tourists' favour. With Labuschagne on strike Perera beats the bat for the first time in a long time and appeals heartily for LBW. It's declined on field but SRI LANKA REVIEW! The ball spun past the inside edge of Labuschagne's bat from a delivery sent down from over the wicket. DRS confirms it was missing leg stump and Sri Lanka burn their second and final review.
Adam Burnett (@AdamBurnett09)

This Head-Labuschagne stand of 145* is now Australia's biggest since Tim Paine took over the Test captaincy #AUSvSL
73rd over: Australia 231-4 (Labuschagne 69 Head 66) More right-arm reputation destroyers from Karunaratne, but this time he loses his line to Head and invites a delicate glance to the fine-leg fence for the first boundary in yonks. There's a much shorter wait for the next four, Karunaratne offering too much width and Head slashing confidently through the offside ring.
72nd over: Australia 223-4 (Labuschagne 69 Head 58) This match is happening, I am absorbing it, but I'm damned if I can pick out much to report. One leg-bye from the latest unremarkable over.
Geoff Lemon Sport (@GeoffLemonSport)

Travis Head is nerve-wracking every ball. Labuschagne is calming. Classic good cop / bad cop. #AusvSL
71st over: Australia 222-4 (Labuschagne 69 Head 58) Sri Lanka turn to the part-time medium pace of Karunaratne. I love this. Proper old school net bowling medium pace junk. Keeper's stood up, pace is a smidgen over 100kph, and the batsmen are terrified of getting out. A couple of singles keep the game moving.
The Cricket Prof. (@CricProf)

In this session Labuschagne has scored at a strike rate of 64.0 with 34% attacking shots compared to a strike rate of 45.0 with 11% attacking shots in the first session, and has played in the same secure fashion with similar number of false shots (12% v 10%) #AUSvSL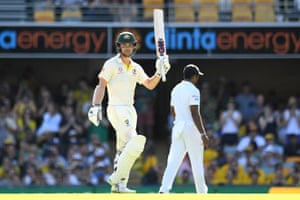 Australian batsman Travis Head celebrates scoring a half century during day two of the First Test match between Australia and Sri Lanka at The Gabba. Photograph: Dave Hunt/AAP